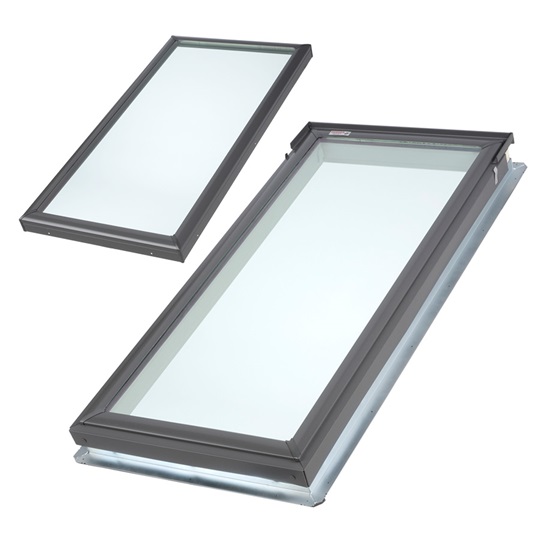 Fixed skylights are perfect for visually expanding areas such as hallways, stairwells and other closed-in, dark spaces. Fixed skylights can transform that dark hallway with light and sky views. It provides an economical choice in creating a spacious home that is filled with natural light. To ensure that these fixed skylights are built to withstand Mother Nature and also the installation process, they are manufactured with Heavy duty materials. We offer 2 choices of glass to best suit your expectations
"Tempered" and "Clean, Quiet & Safe Glass"
Ask our salesmen for more info
If a fixed skylight isn't what you're looking for, we also offer Manual, Electric and Solor Powered venting skylights.
The manual vented skylight enables any home to embrace the best of what nature has to offer, opening for maximum fresh air, Venting skylights contribute to a home's proper moisture balance and comfort level by allowing stale, humid air to be released.
The electric venting skylight is the perfect day lighting solution for overhead applications, it allows for abundant natural light and with a touch of a button, opens to let in fresh air, and if you forget to close it, a rain sensor will shut the skylight during inclement weather.
The solar powered venting skylight offers everything the electric does, except illuminating the need for electrical wiring during installation.
Electric and solar powered skylights are perfect if you're looking to upgrade your home with the latest technology and move towards the smart home solution
Dim and dark rooms are an unwelcoming place, Sun Tunnel skylights bring natural light into even the darkest and most isolated spaces through a specially designed tunnel that passes from the roof to the ceiling of the room. The attractive ceiling diffuser blends unnoticed into the ceiling, spreading a soft and restful light throughout the room.
Please visit our showroom to see our demo!
Put fresh air at your fingertips with a top hinged roof window. A top hinged roof window is easy to operate even with furniture beneath. The ventilation flap allows you to enjoy fresh air without completely opening the window.
We recommend top hinged windows for in-reach applications to take full advantage of the opening and cleaning features.
We also have a center pivot window, we recommend this for in-reach applications to take full advantage of the opening and cleaning features.
If you're looking for roof access, then the Roof access window may be for you! Pull the unique top control bar once and you will allow fresh, filtered air to enter through the ventilation flap. All VELUX roof windows make it easier to gain access to the outdoors
The VELUX Cabrio® balcony
The CABRIO® Balcony opens in seconds to give your loft space a place in the sun. The innovative balcony adds air, light and a great view to your home. When closed, the CABRIO® fits flush with roof for added convenience.
The CABRIO® lets you enjoy natural light and great views while letting outside space flow into you interior. The window opens outwards on its top hinges to give you extra headroom and beautiful panoramic views
There are 3 options for the flat roof skylights;
CFP Flat roof: Flat roof skylights are highly energy efficient, innovative solutions for bringing large amounts of sunlight though a flat roof, The CFP is a fixed flat roof skylight to let in natural light and provide a view to the outside.
CVP Flat roof venting: The CVP is a manual venting flat roof skylight that provides daylight, ventilation and nice breath of fresh air, all through the roof.
CXP- Flat roof exit: The innovation CXP is a flat roof exit skylight designed to provide access to your roof, bring in natural light and enjoy the view all in one solution!
For more details on any of the skylights please visit: Velux (Click Here) or contact our office!
The VIP program was developed by VELUX as an opportunity to partner with installers and help provide the end user with the best experience possible, from product to service. We are a certified VIP Velux Installer